Do you remember back in February-ish when EA was hardcore hyping up a new Sims 3 Store item on their Facebook page? I believe it went a little something like this:
I saw this bad boy, and I have to say, I definitely wouldn't have minded having it in my game. It looked pretty unique and different, and I thought I'd be able to find something neat-tastic to do with it eventually. However, I got busy with other dino-like businesses and it kinda dropped off the edge of my brain for a while.
More recently, I've had a lot of secret underneath-type things in the works in my Sims game, and one such thing was in almost dire need of this awesometastic hot tub. I still had a few simpoints to my name, so I hopped on The Sims 3 Store and began my search for it. I looked through all the categories of single items, but I couldn't find the tubbeh anywhere! Finally though, I happened across the Futureshock Living Set...and there it was!
...ONLY AVAILABLE IN THE SET AND NOWHERE ELSE.
EA expects me to drop 16-something dollars into a set I have no interest in, just to get the ONE hot tub that I want! It doesn't even
go
with the rest of the stuff in that set! It kinda sickens me, honestly, when I think about how much they showcased this item before they released it, and then they're all "Give me a bajillion monies and I'll give you what you want, plus a bunch of crap you won't use! It works out for everyone because I don't understand the concept of fairness! Yaaayyy!!"
-.- ...And what's worse? Everything else in that set is offered separately. Except Mr. BubblyAwesomePants. Sooo gross and unfair.
I came across something else rather intriguing on my trek through the store: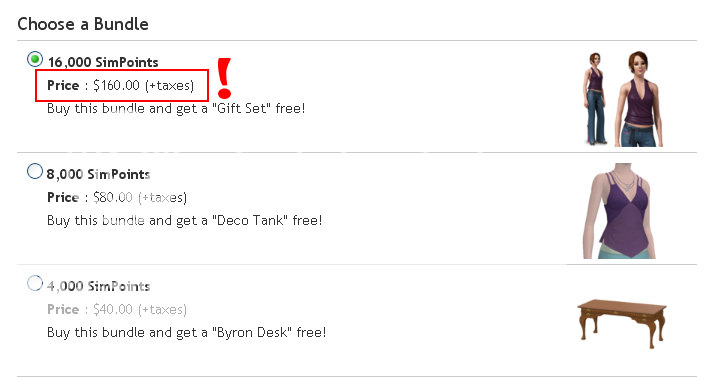 Did they really think people would log onto the store and buy 160 bucks worth of simpoints? That's sooo much money! I could buy you the base game and a couple EPs with that if I wanted to. That just goes to show how much they're expecting the store stuff to suck up our money.
So really EA, thanks. Thanks a bunch for being money-sucking leeches, because I'm sure you don't make NEARLY enough money already.